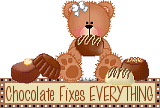 EL CHOCOLATE CANTA
Un día tuve una cita a almorzar con unas amigas. Mae, una pequeña ancianita de cabello azulado como de 80 años, se nos unió--todos juntas, un grupo agradable. Cuando nos trajeron los menús, todas ordenamos ensaladas, emparedados y sopas, excepto Mae quien dijo: "Helado, por favor. Dos bolas de chocolate".
No estaba segura de que mis oídos hubiesen captado bien y las otras quedaron aterradas. "Junto con un pastel de manzana calentado", agregó Mae, completamente inmutable. Intentamos actuar de manera indiferente, como si la gente hiciese esto todo el tiempo. Pero cuando nos trajeron los pedidos, no disfruté el mío. No podía quitar mis ojos de Mae mientras engullía su pastel. Las otras damas mostraron consternación. Comieron sus almuerzos en silencio y con el ceño fruncido.
La vez siguiente que salí a comer, llamé e invité a Mae. Almorcé carne blanca de atún. Ella ordenó una copa de helado. Sonreí. Preguntó si ella me divertía. Le contesté: "Sí, lo hace, pero también me confunde. ¿Cómo es que ordena postres tan ricos, mientras yo siento que debo ser sensible? Ella se rió y dijo con júbilo disipado: "Estoy probando todo lo que es posible".
Intento comer la comida que necesito y hacer las cosas que debo. Pero la vida es tan corta, mi amiga, odio perderme algo bueno. Este año me di cuenta cuán vieja era (se sonrió). Nunca he estado tan vieja antes. Así que, antes de morir, tengo que probar esas cosas que por años pasé por alto. No he olido todas las flores todavía. Todavía hay muchos libros que no he leído. Hay todavía mucho más helado acaramelado que devorar y papalotes que volar.
Hay muchos centros comerciales en donde no he comprado. No me reído de todos los chistes. Me he perdido muchos éxitos de Broadway y papas fritas y gaseosas. Quiero vadear una vez más en el agua y sentir el rocío del océano en mi rostro. Quiero sentarme en una iglesia del campo y una vez más agradecerle a Dios por Su gracia. Quiero untar mantequilla de maní sobre mi tostada cada mañana. Quiero llamadas de larga distancia sin límite de tiempo a la gente que más amo.
No he llorado en todas las películas todavía o caminado en la lluvia mañanera. Necesito sentir el viento en mi cabello. Quiero enamorarme de nuevo. Así que si escojo postre en vez de cena, si muriese esta noche, diría que morí ganadora, porque no me perdí de nada. Satisfice mi corazón. Tuve aquel último mousse de chocolate antes de expirar". Con aquello, llamé a la mesera... "Cambié de parecer", le dije. "Quiero lo que ella pidió; ¡sólo que me le agrega un poco más de crema batida!"
Vivamos bien, amemos mucho y riamos a menudo... seamos felices. Recordemos que la felicidad no se basa en posesiones, poder o prestigio, sino en las relaciones con la gente que amamos y respetamos. Recordemos que mientras que el dinero habla, ¡el chocolate canta!


Ma. Alejandra Munguia L.

La vida es corta, trabaje como si fuera su primer día, perdone rápidamente, bese demoradamente, ame verdaderamente, ría incontrolablemente y nunca deje de sonreír por más extraño que sea el motivo.
La vida no puede ser la fiesta que esperábamos pero en cuanto estamos aquí, debemos sonreír y dar gracias.....
If love and agreement are manifest in a single family, that family will advance, become illumined and spiritual; but if enmity and hatred exist within it destruction and dispersion are inevitable. This is likewise true of a city. If those who dwell within it manifest a spirit of accord and fellowship it will progress steadily and human conditions become brighter whereas through enmity and strife it will be degraded and its inhabitants scattered.
In the same way the people of a nation develop and advance toward civilization and enlightenment through love and accord, and are disintegrated by war and strife. Finally, this is true of humanity itself in the aggregate. When love is realized and the ideal spiritual bonds unite the hearts of men, the whole human race will be uplifted, the world will continually grow more spiritual and radiant and the happiness and tranquillity of mankind be immeasurably increased. Warfare and strife will be uprooted, disagreement and dissension pass away and Universal Peace unite the nations and peoples of the world.
La amistad anima el alma y estimula el corazón. Se conocen sus efectos beneficiosos para la salud: activa nuevas áreas del cerebro y libera sustancias hormonales que favorecen la relajación y el bienestar. Además, es como un espejo que refleja nuestra imagen ampliada. Nos hace crecer y madurar, ayudando a forjar nuestra personalidad y nuestras relaciones sociales con quienes nos rodean.
Un profundo sentimiento de amistad activa áreas muy particulares, generalmente infrautilizadas en el cerebro, que secretan una mezcla especial de sustancias bioquímicas. La colaboración, el intercambio, el reconocimiento del otro, cierran el paso a la agresividad, la desconfianza o la defensa del territorio. El apoyo emocional que conlleva toda amistad y la alegría compartida activan el sistema inmunológico.
Tener amigos nos sirve de refugio donde, en caso de necesidad, podemos encontrar ayuda y consuelo sin tener que dar nada a cambio. La amistad no es posesión, ni exigencias, ni obligaciones sino libertad y apoyo mutuo. Si no es así, quizás no sea una verdadera amistad lo que tenemos.
El amor es un sentimiento íntimamente unido a la amistad. Todos necesitamos dar y recibir amor, es una capacidad de índole superior para la que el hombre está ampliamente dotado, a la vez que constituye una necesidad, ya que una existencia sin amor supone un vacío en una parcela importante de nuestra vida psíquica. Tomado de: http://www.psicoactiva.com/amistad.htm
.................................................................................
Léelo con atención... es pura programación neurolingüística PNL

Antes de Orar…PERDONA
Antes de Hablar…ESCUCHA
Antes de Escribir…PIENSA
Antes de Gastar…GANA
Antes de Criticar…ESPERA
Antes de Rendirte…PRUEBA
Tus palabras, tus sueños, y tus pensamientos tienen el poder de crear condiciones en tu vida.
De lo que hables, lo obtendrás.

Si sigues diciendo que no soportas tu trabajo, puedes perderlo.

Si sigues diciendo que no soportas tu cuerpo, tu cuerpo puede enfermarse.

Si sigues diciendo que no aguantas tu carro, tu carro puede ser robado o descomponerse.

Si sigues diciendo que estás quebrado, sabes qué? Siempre estarás quebrado.

Si sigues diciendo que no puedes confiar en hombres o mujeres, siempre encontrarás alguien en tu vida que te lastimará o te traicionará.

Si sigues diciendo que no encuentras trabajo, seguirás desempleado.

Si sigues diciendo que no puedes encontrar alguien a quien amar o crea en ti, tus pensamientos atraerán mas experiencias confirmando tus creencias.

Haz tus pensamientos y tus conversaciones más positivos y guárdalas con fe, esperanza, amor y acción.

*No tengas miedo de creer que puedes tener lo que tú quieres y mereces.*

Observa tus 'Pensamientos,' Se convertirán en palabras.

Observa tus 'Palabras', Se convertirán en acciones.

Observa tus 'Acciones', Se convertirán en hábitos.

Observa tus 'Hábitos', Se convertirán en carácter.

Observa tu 'Carácter', Se convertirá en tu 'Destino'

Así…. Para prevenir cualquier obstáculo… ¡ Consigue tu propio camino !

¡¡ Disfruta cada minuto de tu vida !!

Cuando el filosofo señala la luna, el tonto se fija en el dedo.

'Si no te gusta lo que recibes, revisa muy bien lo que estás dando'.

'Así como las olas brotan del mar y regresan al mar,
así nosotros venimos de Dios y regresamos a Dios'

'Cuando el amor es feliz lleva al alma a la dulzura y a la bondad.'

No estés ocupado todo el día…comparte éste mensaje de inspiración, ¡¡ yo lo acabo de hacer !!
'QUE COSA EXTRAÑA ES EL HOMBRE,
NACER NO PIDE,
VIVIR NO SABE,
y MORIR NO QUIERE'
La amistad y el amor: Dos sentimientos tan hermosos que vale la pena investigar de qué se trata cada uno de ellos:
AMOR Y FRIJOLES - PELICULA HONDUREÑA
L
a amistad es un tipo de unión afectiva que se basa en la comunicación, el apoyo mutuo, la comprensión, el cariño y la absoluta armonía entre dos personas

.
~ Abdu'l-Bahá
Baha'i World Faith
Abdu'l-Bahá Section
p. 229
Sabías que La Amistad es:
un ARTE???

SaludARTE

BesARTE

AnimARTE

AbrazARTE

BromeARTE

MolestARTE

AmARTE

LlamARTE

ApoyARTE

CantARTE

AdmirARTE

AconsejARTE

SoportARTE

AguantARTE

EscuchARTE..!

AbrigARTE

Y a veces IMITARTE(es lo bueno)...

Pero nunca nunca olvidARTE...

y mucho menos ignorARTE.

Pasalo a tus amigos verdaderos! Incluyéndome a mi, si me consideras uno!!!!
Favor de no olvidARTE gladysoo1@yahoo.com
Last New Visitor



Colombia




Visited October 17, 2011

COMEBACK ANGOLA ALLWAYS!!!!


Newest Country



Australia




Last Visited July 1, 2011

COMEBACK AUSTRALIA ALLWAYS!!!!

Newest Country



Indonesia




Last Visited October 30, 2011

Welcome Indonesia comeback allways

MOVIES THAT CHANGE LIVES
Welcome Slovenia, comeback allways!!!
Newest Country

Slovenia
Last Visited September 29, 2011